StarBoard™ F-63, F-77 & F-82W Interactive Whiteboards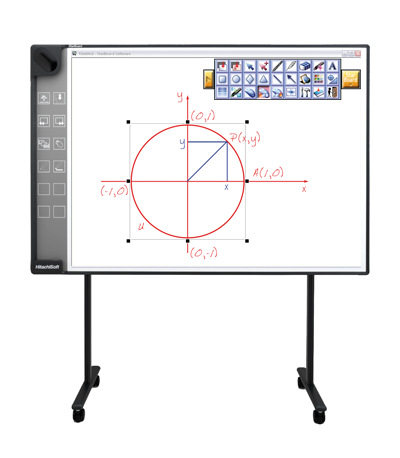 The StarBoard FX Series is our most advanced and popular interactive whiteboard to date.
These versatile, high-performance products feature large-format image areas (63", 77" and 82" diagonal), with durable, anti-glare steel-backed projection surfaces for both electronic sensing-based and dry-erase writing. With the FX Series, we have introduced a sophisticated new combination of ultrasound and infrared technologies for stylus position sensing and cursor hovering. This not only eliminates the possibility of spurious or accidental "contact" signals during your presentations, but also ensures high-speed, accurate stylus tracking over the entire image area.
FX Series whiteboards are available with serial or USB wireless computer interfaces.
The complete StarBoard Software suite is included with every FX Series whiteboard.

Specifications


---

FX-63
FX-77
FX-82W
Display type
Interactive whiteboard
Display size
63"
77"
82"
PC interface
RS-232C serial (all models), USB (wireless models)
Pen type
Wireless, 2 buttons
Weight (without stand)
27.5 lbs
38.5 lbs
38.5 lbs
Shipping weight
52 lbs
60 lbs
60 lbs
Shipping dimensions
62" x 45 " x 4 "
74" x 53" x 4 "
84" x 48" x 4"
Power consumption
< 6W
Digitizing technology
Ultrasound and infrared

---
Call on RSC Broad Band for All Your Interactive Communication Needs
We offer a full range of interaction communication systems for presentations, classrooms, and video conferences. Backed by a company known for quality products worldwide, you can trust RSC Broad Band to be there with solutions that meet your communication needs.