DSI > TEBBS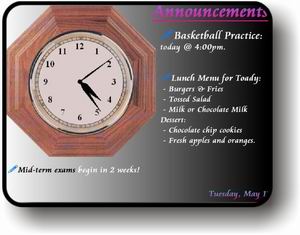 Affordable
Our most affordable character generator, the TEBBS (Televised Educational Bulletin Board System) is a basic information display system with an advanced scheduler, text page creation and an analog clock. The TEBBS is available as a complete system and comes with a 3 year warranty on parts and labor. If you have your own computer system, you can also purchase the TEBBS software separately.
Features:
Advanced Scheduler: See what your display will look like at a glance with an advanced graphic scheduler that uses miniature thumbnails of your pages and wipes. Choose from over 70 page wipes to make your schedules interesting and creative.
Analog Clock: TEBBS lets you insert an analog clock display between any of the text pages. Choose between several different styles of clock, including a digital format.
External Time Synchronization: TEBBS has the optional capability to synchronize its clock to an external RS232 signal. It can also recognize and control external events through its general purpose interface and contact closure capabilities.
Multiple Backgrounds: Create rectangles with features like color blends, blurs, lighten and darken. Add multiple graphics from the graphic background library that you can resize, crop, rotate, twist, reposition and frame. (Cannot import your own graphics).
Other Features include: Multi-channel display/offline editing (optional), time synchronization capabilities (optional), and color blended background generator.
Community Channel Information
School Announcements

TEBBS Complete System comes with...

IBM Compatible Computer with MS Windows XP Pro
TEBBS Software and quick start manual
VGA to NTSC Converter
3 Year Warranty (All Systems)
System Preloaded, Configured, Tested.