DSI > Text Pro Sr.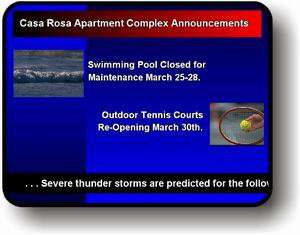 Powerful
A step above the TEBBS, the TextPro Sr. character generator gives you some extra features such as horizontal crawl, local weather display, remote administration and multi-channel display. The TextPro Sr. is available as a complete system and comes with a 3 year warranty on parts and labor. If you have your own computer system, you can also purchase the TextPro Sr. software separately.
Features:
Local Weather Display: Connect an optional weather station and receive current weather information which can be displayed on any page or horizontal crawl.
Horizontal Crawl: The horizontal crawl is flexible, allowing placement anywhere on the screen. Options include vertical one-line and automatic repeat.
Remote Administration: The TextPro Sr. Creation software can communicate with other TextPro Sr. units to transfer new pages and schedule information. This allows for a central location to administer the operation of multiple TextPro Sr. systems.
Multi-Channel Display: This optional feature allows you to run up to 2 independent displays off the same computer. This eliminates the need to have duplicate systems for display, or can be used to integrate a Creation and Display Only system.
Other Features include: Clock synchronization, date-specific page display, and over 900 graphic backgrounds. The TextPro Sr. also includes all the features of the TEBBS software.
Horizontal Crawl

Local Weather Information

TextPro Sr. Complete System comes with...

IBM Compatible Computer with MS Windows XP Pro
TextPro Sr. Software and quick start manual
VGA to NTSC Converter
VGA Monitor (Creation System)
3 Year Warranty (All Systems)
System Preloaded, Configured, Tested.