StarBoard Bluetooth Freedom Tablet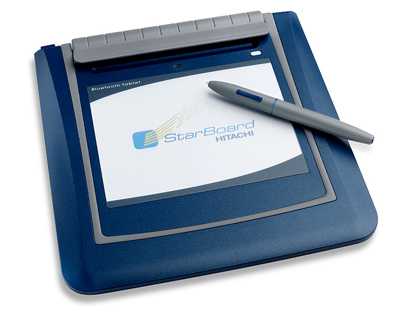 The StarBoard BT-1 Freedom Tablet is a lightweight, portable presentation device from Hitachi Software Engineering America. The StarBoard BT-1 is as an accessory for all StarBoard presentation systems. The BT-1 is used to annotate presentations and run computer applications in meetings rooms and classrooms while moving about in the room.
The Freedom to Move About
The StarBoard BT-1 communicates to the computer running the StarBoard Software through a wireless Bluetooth interface. The BT-1 is battery operated as is its pen. Consequently, it is a completely wireless device providing complete freedom to move about the room while delivering presentations. The Bluetooth receiver is a small device that plugs into any USB port on the computer.
The FX-series interactive whiteboards and the T-series interactive LCDs use an LCD projector to display the computer's graphic images on a screen or the interactive whiteboard. The P-series interactive plasma displays are typically used in high quality presentation environments and may also be used with LCD projectors to display the image on a large screen.
While looking at the projected image or plasma display, the presenter can move about the room with the simple pen on tablet interface to run the StarBoard Software or any other application. Thus the operation is much like using a desktop mouse, except much more natural for writing notes and performing other operations with the pen input device.
The StarBoard BT-1 System is a full presentation system with the complete StarBoard software suite for mobile presenters to use with laptops, or as an upgrade for rooms already equipped with computer, mouse and projectors.

Specifications


---

BT-1 — Tablet
Tablet dimensions
8" x 7" x 2"
Working area
6" x 4.5"
Working environment
Windows XP
Resolution
500 lines per inch
Maximum position
X: 3000 Y: 2250
Macro key
None
Accuracy (center area)
+/- 1mm (pen vertical to surface)
Accuracy (boundary 1/2" area)
+/- 2mm (pen vertical to surface)
Jitter (center area)
+/- 1 point (pen vertical to surface)
Jitter (boundary 1/2" area)
+/- 3 points (pen vertical to surface)
Weight
470 grams (1.04 lbs)
Data interface
USB, Bluetooth
Battery
(2) AA rechargeable batteries
BT-1 — Pen
Pen
Pen with mouse select button
Pen Battery
(1) AAA battery
Proximity
8mm minimum
BT-1 — Bluetooth Module
Bluetooth module
Fully compliant with Bluetooth v1.1
Module type
Bluetooth v1.1 Class B
Module chip
Microtune
Module interface
Serial port interface (SPI)
Module clock
1.5 MHz
Operating voltage
3V DC +/- 5%
Operating temperature
32° F - 112° F ( 0°C - 45° C )
Storage temperature
-4° F - 112° F ( -20°C - 45° C )
Operating humidity
0-70% ( non-condensing )
BT-1 — Product Performance
Compatible dongle
SiliconWave, CSR
Multiple connections
4 tablets
Link distance
up to 10 meters ( 32.8 feet )
Tablet report rate
120 reports per second ( in USB mode )

---