DSI > Elite Gold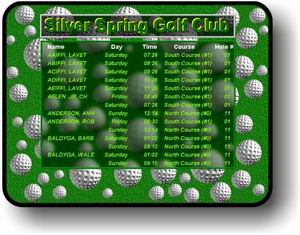 Professional
The ELITEGOLD is DSI's top of the line character generator. Packed with advanced features such as text animation, database display capability, PowerPoint insertion and web page display. The ELITEGOLD is available as a complete system and comes with a 3 year warranty on parts and labor. If you have your own computer system, you can also purchase the ELITEGOLD software separately.
Features:
Text Animation: Animate text by sliding, circling, spelling, wiping on and off, and just growing or shrinking. In conjunction with specific wipes, text can even rotate.
PowerPoint Insertions: Add a PowerPoint Show (.pps files only) directly into an existing schedule. This allows clients and customers to submit their own presentations for the schedule line-up.
Database Display Capability: Link the ELITEGOLD to a database to display facility bookings and activity schedules. Allow filters to be applied to the database so that only specific entries are displayed.
Internet Web Page Insertion: Link your on-air presentation directly to a web page for current, live data. High speed internet connection is required.
External Video Control: Interface the ELITEGOLD with video playback and routing hardware to display video from sources including VCR's, DVD players, and mpeg2 devices. Optional equipment is required.
Other features include: internet graphic download, audio and graphic image capture, multi-channel display, and contact closure capabilities. The ELITEGOLD also includes all the features of the ELITE2000, TextPro Sr., and the TEBBS software.

Internet Web Page Insertion
Database Display

ELITEGOLD Complete System comes with...
IBM Compatible Computer with MS Windows XP Pro
ELITEGOLD Software and quick start manual
VGA to NTSC Converter