StarBoard Products
StarBoard Presentation Solutions
The StarBoard Advantage: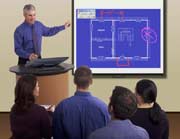 The Hitachi Software StarBoard family of interactive communication systems delivers the highest quality products at attractive, competitive prices. The StarBoard family includes a range of hardware configurations to fit all presentation, education and communication budgets and room environments. Our selection of interactive whiteboards, LCD panels, and rear projection systems make StarBoard the high-performance interactive presentation solution for education and business.
All StarBoard presentation products include Hitachi Software's StarBoard Software, an easy-to-master suite of powerful presentation and conferencing tools tightly integrated with applications like Microsoft PowerPoint. StarBoard Software includes interactive annotation tools, handwriting and geometric object recognition capability and full conferencing features between LAN or WAN networked systems.
The StarBoard family of pen-driven systems deliver fast, responsive pen tracking speed with virtually no cursor lag. Each system has high resolution display capability with accuracy that works well with the most detailed images. Our pen-driven systems allow you to run any application with your pen providing complete mouse functionality, or to use a broad array of "inks" to annotate your computer displayed images.
StarBoard, the intelligent solution to your interactive presentation needs.
Hitachi Software's StarBoard line of interactive meeting solutions offers users a selection of powerful tools for Meetings, Training, and Conferencing for business and Education.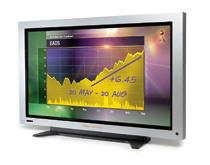 P-Series Interactive Plasma Displays



StarBoard F Series
High Performance Interactive Speed and Accuracy.


StarBoard EM Panel
Control, edit and annotate computer application directly from the interactive panel.
StarBoard R-70 X Rear Screen
The Ultimate Interactive Meeting Solution
StarBoard Software 5.1.2 - NEW
The new and improved presentation software, Easy-to-use, yet powerful software makes the difference.